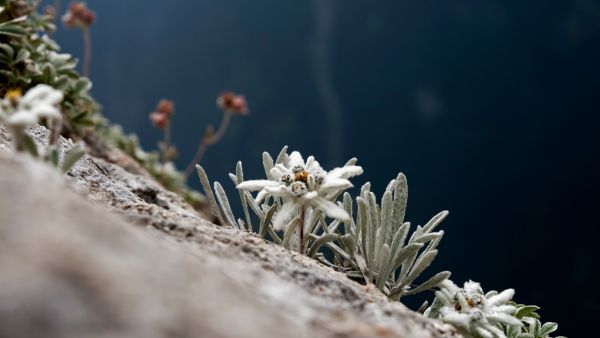 Edelweiss flowers (Gnaphalium Leontopodium) are a rare, strictly protected mountain herbaceous plant.  Its short-lived bloom symbolizes alpinism, rugged beauty, and purity of the Alps, often called 'The Queen of the Mountain'. 
Edelweiss flowers thrive in rocky limestone habitats above 5,900 feet in elevation. Living at such high altitudes means these plants receive some major sun, wind, cold, and general severe weather exposure all of which has contributed to their ability to repair and fight free radicals. 
So, what does this mean for skin?
A true extremophile botanical, Edelweiss has the ability to fortify, renew and nurture the skin. It has been shown in studies to target skin RNA helping to improve their response to environmental stressors.
You can find sustainably harvested and protected Edelweiss flowers in our Aspen Dew Illuminating Essence.
Rejuvenating
By supporting skin regeneration processes, Edelweiss helps contribute to a healthy and rejuvenated complexion. Rich in antioxidants leontopodic acid and isochlorogenic acid, Edelweiss can help fortify skin against environmental stressors, like UV radiation, pollution, and free radicals. Twice as potent as vitamin C, Edelweiss helps shield skin from oxidative stress and slow premature aging. 
Calming
Edelweiss contains phenylpropanoids, a compound that posses anti-inflammatory and antibacterial properties. These phytoactives can help  calm angry or reddened skin. This can be particularly beneficial for those with sensitive or reactive skin.
Hydrating
Edelweiss helps hydrate the skin and prevent moisture loss by restoring hydration and supporting healthy skin barrier function to those suffering from dry or dehydrated skin.
Firming 
Edelweiss can help to support collagen production, which is essential for maintaining skin elasticity and firmness. As we age, our collagen production declines, which can lead to the development of wrinkles and fine lines. Edelweiss contains phytonutrients that may help to improve skin elasticity, reduce the appearance of wrinkles and promote more youthful-looking skin.
Smoothing 
Edelweiss can help to improve the overall texture and appearance of the skin by helping promote cell renewal and regeneration. This can help to reduce the appearance of fine lines, wrinkles, and uneven skin tone, and promote a more radiant complexion.
Brightening
Certain compounds found in Edelweiss extract are associated with skin brightening effects which help to reduce hyperpigmentation, fade dark spots, and reveal a more even and radiant skin tone. In addition, Edelweiss can help fortify your skin against sun-induced aging.
Edelweiss flower extract is truly an alpine treasure, bringing a myriad of health benefits to your skin. From its concentration of free radical scavenging antioxidants to its hydrating and soothing properties, this alpine wonder can transform your skin's look, feel, and health.
Sources:
Cho, Won Kyong, et al. "Anti-Aging Effects of Leontopodium alpinum (Edelweiss) Callus Culture Extract through Transcriptome Profiling." Genes, vol. 11, no. 2, 2020, p. 230, doi:10.3390/genes11020230.
Continue reading