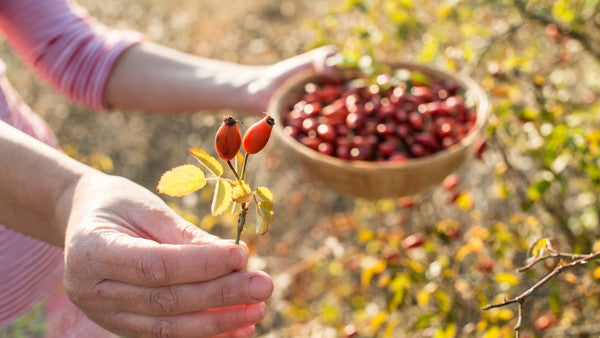 Autumn is harvest season for one of our favorite ingredients, rosehips. After the first light frost, these majestic fruits are hand-picked from the rose canes.
The ruby red fruits are then cold-pressed to yield a rich reddish-colored seed oil that has incredible nourishing properties. 
Sometimes called "the queen of all facial oils," rosehip seed oil has been prized since ancient times for its beauty benefits. Greek poet Sappho called rosehips "queen of flowers" in 600 B.C.
Its unique Omega profile makes it easily absorbed and helps facilitate deeper penetration of other beneficial phytonutrients. These essential Omegas support skin barrier function. A healthy skin barrier means a calm, hydrated complexion. 
This luxurious seed oil contains beta carotene (pro-vitamin A), vitamin C, and E and small amounts of trans-retinoic acid. Acting as powerful antioxidants and free-radical scavengers, these phytonutrients help to  brighten skin and aid in collagen synthesis. 
You can find organic cold-pressed rosehip seed oil, in our Purist Delicate Skin Serum and Alpine Phytonutrient Serum.
Beauty Benefits of Rosehip Seed Oil
Hydration & Plumping
Rosehip oil contains a wealth of essential fatty acids, including linoleic and linolenic acid. Fatty acids help to preserve your acid mantle and prevent trans-epidermal water loss (TEWL). 
Clarifying
Rich in vitamin C, rosehip seed oil supports skin renewal and clarifies skin to boost overall radiance.
Exfoliates & Brightens
Natural exfoliation with rosehip oil can help reduce dullness and leave you with glowing, vibrant skin. High in Vitamin A, a retinoid, rosehip oil encourages skin rejuvenation. 
Smoothes skin
Rich in essential fatty acids and powerful antioxidants, rosehip seed oil supports regeneration and reduces the appearance of fine line and wrinkles.